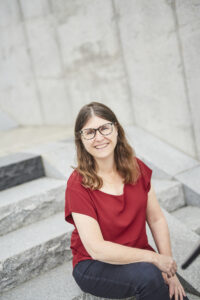 Eva Holmquist is an inquisitive bookworm who writes science fiction and fantasy. She grew up in Pixbo outside Gothenburg in Sweden, but now lives in Jönköping. Readers usually describe her stories as imaginative, thought-provoking stories full of the joy of storytelling. She writes both short stories and longer stories, both in Swedish and English.
The following English short stories are available:
– Keep Fighting (science fiction). Also published in the anthology Waiting for the Machines to Fall Asleep.
– Good Morning Victorious (science fiction)
– Another Day (science fiction)
– Playdate (science fiction)
– The Protected Heart (science fiction)
"I want to read EVERYTHING by Eva Holmquist, enjoy the language, the unique environments, the odd characters and the endless imagination that changes with each new book." Kim Kimselius Swedish Fantasy Author.
Contact information:
Instagram: @evaholmquist
Twitter: @evaholmquist
Mail: eva @ evaholmquist.se