Sign up to Eva's Fancies to get A Bottle of Wine for free: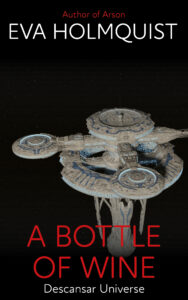 Life at Descansar – Heart-warming science fiction!
Carla examines a greenish wine bottle, old Earth style.
Fancy label. Lavender colored wine. High alcohol.
Fruity smell, with hidden citrus.
A simple case of tax evasion. Or, is it?
The wine contains a secret.
A deadly one.
Can Carla solve the mystery before it's too late?
A new intriguing science fiction story in the Descansar Universe.